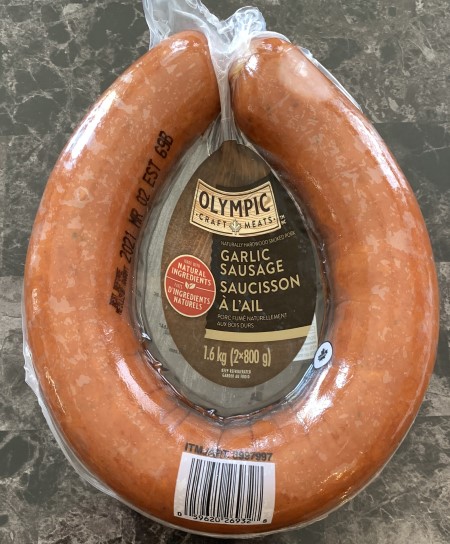 Gluten free Garlic Sausage. 
Please note that this review was not paid for or sponsored by any third party. I purchased this product with my own money and the opinions in this review are strictly my own. I am not affiliated with Costco or any of its suppliers. I am just a fan of the company. I write these reviews to help my fellow shoppers.
Today I'm talking sausage! I haven't bought sausage from Costco for a long time so when I was recently craving some pierogies with sausage I decided to pick a pack up at Costco. Today I'm reviewing the Olympic Craft Meats Garlic Sausage from Costco. I tried to find a sausage that had natural ingredients and didn't include any gluten.
Cost
You get two HUGE sausages for $13.99 Canadian. Half of one sausage is more than enough for the two of us to have with pierogis and have leftovers.
Convenience
You can grill this, steam it in the microwave, pan fry it or just eat it straight from the fridge. I actually used this with pierogies and to make jambalaya and everyone in my family really enjoyed it. This is a super versatile sausage and the best before date is about three months from the date we purchased this. I froze half the sausage and it froze well. The package recommends you use this within seven days of opening.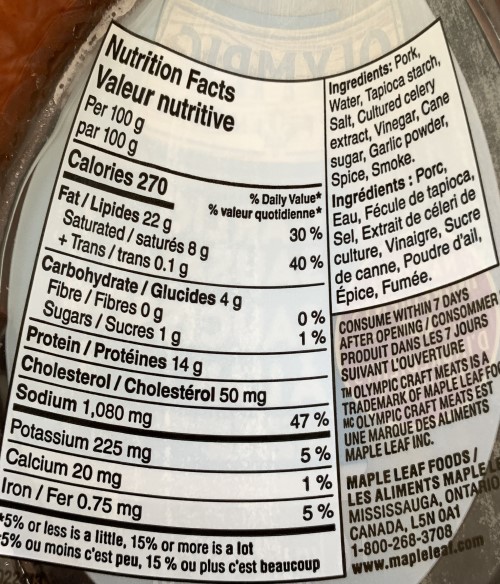 Nutrition
100 grams of garlic sausage is 270 calories, 22 grams of fat, four grams of carbohydrates (which is low), zero grams of fibre, one gram of sugar and 14 grams of protein. The sodium is high! I was really surprised to find that 100 grams has 1080 mg of sodium! That's a lot especially if you're watching your sodium intake. The ingredients list is very short and straight forward and doesn't contain any gluten.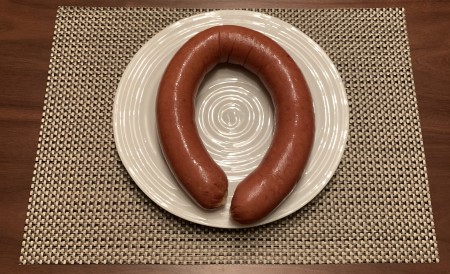 Taste
As I said, this sausage is really versatile. It's salty, flavorful and seasoned well.  You can definitely taste the garlic but it's not completely overpowering.  The casing is a bit tough and chewy but it can be taken off really easily (the casing actually kind of rolled off as I was cutting it). This went well with pierogies and I appreciated that it had natural ingredients listed. I used this in jambalaya but you could also use this to make quick garlic sausage and roasted vegetables in the oven, a garlic sausage pasta or garlic sausage rice casserole. The only thing I'd prefer is if the casing was slightly less thick and not as chewy.
I've been buying more turkey sausage lately and would love if Costco has a turkey garlic sausage to buy but it was nice to try this Olympic Craft Meats Garlic Sausage from Costco, I'm curious what other sausages people like from Costco so please do share!
Cost: 8/10
Convenience: 9/10
Nutrition: 3/10
Taste: 7/10
What's your favorite kind of sausage to buy from Costco?