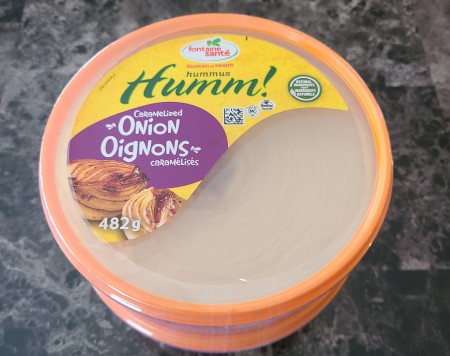 If you like my reviews for Costco food products the greatest thing you can do is follow me on Instagram or Facebook and also tell your friends about my blog Costcuisine where I review tons of Costco food products each week! You can also check out my Youtube Channel where I do video reviews!
Today I'm reviewing the Fontaine Sante Humm! Caramelized Onion Hummus. I'm a hummus addict at the moment and am very particular about my hummus. The texture has to be just right and it can't be too garlicy. I've never tried this hummus so picked it up to review.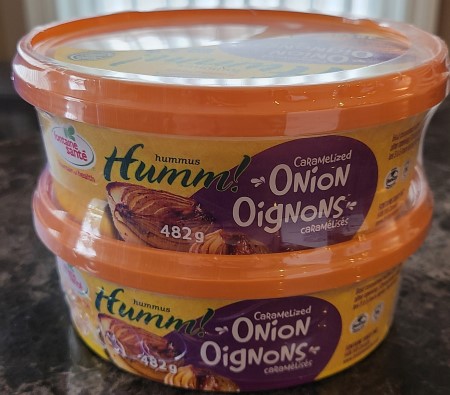 The Fontaine Sante hummus comes in a two pack, each tub is 482 grams and I paid only $4.49 Canadian for the two large tubs of hummus which is way cheaper than any grocery store price I've come across!
The best before date listed on the hummus is almost two months from the date I purchased it however it states on the tub that it's best consumed within three to five days of opening the hummus. The three to five days things is a bit of a disappointment because I'm the only one who eats hummus in our house so I find it hard to finish a tub within five days. I usually stretch it to a week.
I absolutely love this hummus on the Costco Mary's Organic Crackers and the Costco Simple Mills Almond Flour Crackers. Hummus is also great on veggies like celery or cucumber or as a topping for homemade Mediterranean quinoa bowls.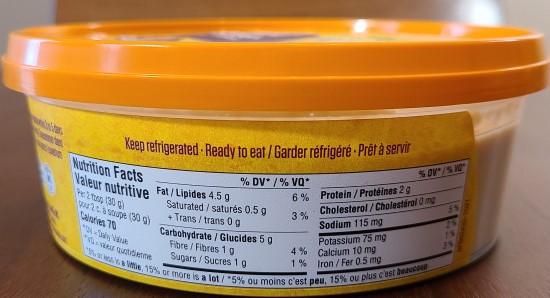 Two tablespoons of hummus is 70 calories, four and a half grams of fat, five grams of carbohydrates, one gram of fibre, one gram of sugar, two grams of protein and 115 mg of sodium. Hummus is low in carbs and sugar and has a bit of protein as well as healthy fat.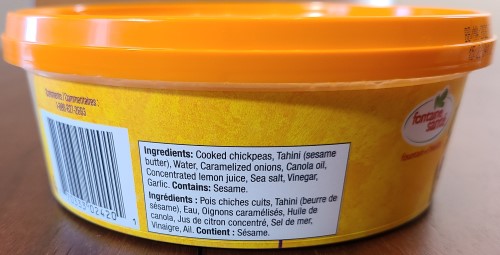 The ingredients list has cooked chickpeas as the first ingredient which is what I like to see in a hummus! The only ingredient listed some individuals may find unhealthy is the canola oil.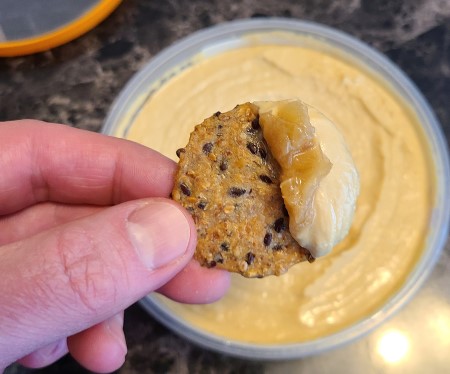 The texture of this hummus is light, fluffy and creamy. I compared it to another hummus and I much preferred the texture of this hummus, it was much lighter and easier to spread. I wasn't sure about the caramelized onion flavour because I usually just like plain hummus but the caramelized onion is only really in the middle. If you mix the middle in with the rest of the hummus you get a slight onion flavor but not much. You can taste the chickpeas, sesame, lemon, salt and vinegar and there's no garlic. If you like your hummus with lots of garlic you might want to skip this one.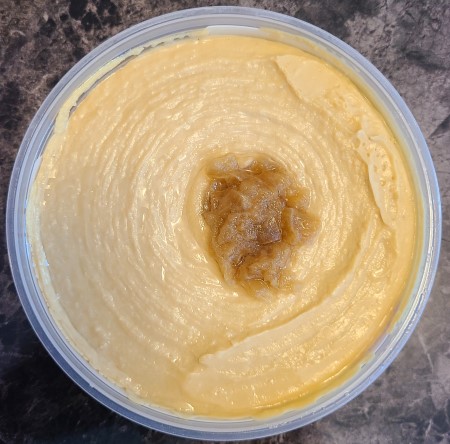 As a hummus lover, for the price and considering the taste and texture, this is going to be my go-to store bought hummus to buy. If I don't feel like having caramelized onion hummus then I'll just eat around the middle. Of course nothing compares to homemade, freshly made hummus but this is pretty good.
Cost: 10/10
Convenience: 8/10 (it's hard to finish within three to five days!)
Nutrition: 9/10
Taste: 8/10