First Ever Costco Tire Centre Post
There has never been a tire centre post done so here it is!
I walked up to the local Costco Tire Centre and inquired about all season tires.  Now is a good time to book your appointment for new tires.  I was informed that the slow season for tire centres has arrived (the busy winter tire installation/removal season just ended).  That means that the tire centres are now accepting appointments online and over the phone in advance.  During the busy season appointments are not accepted, and the tire centres only do walk-ups/drive-up appointments on a first come-first served basis.
This week there is a $70 cash card promotion for Michelin tires and a 1 cent per tire installation sale (regular price $15 per tire installation).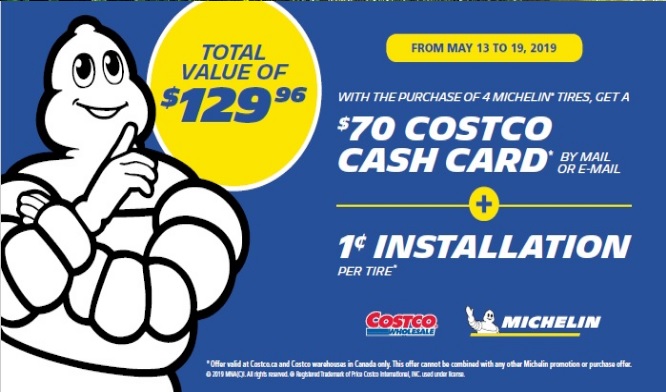 The basic installation package (regular price only $15 per tire) includes the following, which is unbelievable value:

Also on for a while is a $70 cash card promotion for BFGoodrich tires.
The multitude of advantages for buying Costco tires are:
One of the biggest advantages for buying Costco tires is the Costco Road Hazard Warranty.  All passenger, performance and light truck tires sold through Costco Wholesale are covered by a 5-year Road Hazard Warranty* protecting customers against tread wear damage and tire failure.  My dad damaged one tire on the side wall and the local Costco replaced all four tires.
The prices for all available tires are on the costco.ca website and can be ordered to each individual warehouse here.
Below are the in store prices for the batteries and tires in the physical store I visited.
~MyCartIs2Full