CONTEST TIME!  Revitalift Triple Power LZR Day Moisturizer & 1.5% Pure Hyaluronic Acid Serum Review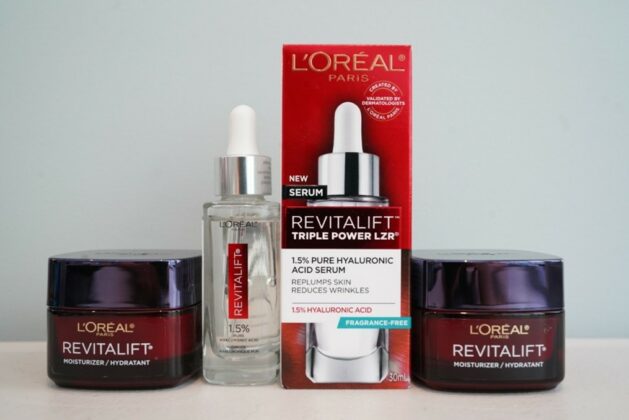 The Costco West & East Fan Blogs have once again partnered with L'Oréal Paris to help them promote the Revitalift Triple Power LZR day Moisturizer & 1.5% Pure Hyaluronic Acid Serum which have been restocked and are available at Costco Warehouses Canada-wide.
This is a paid promotion and all opinions are my own… with that being said, I would never promote a product that I didn't sample and believe in.
***Read to the end of this review to find out how you can win 1 of 3 $50 Costco Cash cards!***
If there is one thing that I have learned from visiting our pediatric dermatologist is that he has recommended creams with Hyaluronic acid for dry skin.  Hyaluronic acid is a sugar found naturally in our skin that holds water and helps keep it hydrated and plump.  At this time of year, you are also probably feeling the effects of the dry cold air on your skin.  Both of these product contain Hyaluronic acid which is formulated to give you firmer, brighter skin and fewer wrinkles. I've definitely noticed a positive change my skin with regular applications.  I have dry skin (which is exacerbated by cold and dry weather) and it now feels more hydrated and looks smoother.
Revitalift Triple Power 1.5% Pure Hyaluronic Acid serum –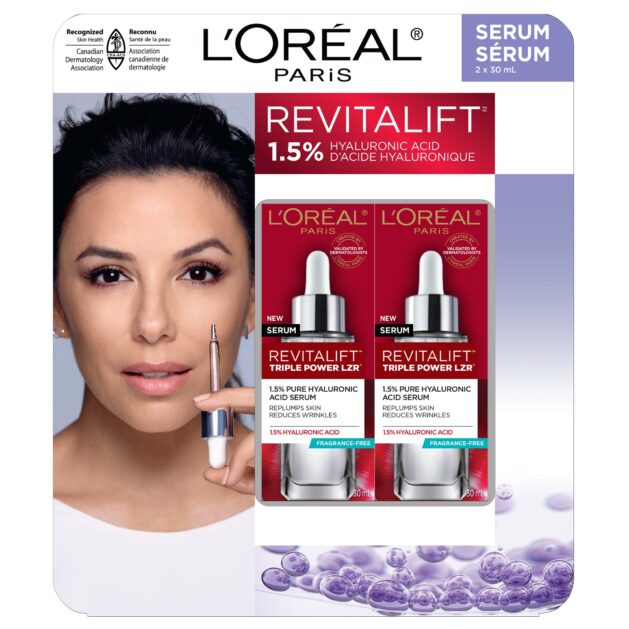 The Hyaluronic Acid Serum comes in a sleek glass bottle with an easy to use dropper. The recommended directions are to apply 2 – 3 drops to the face and neck, every morning and evening, followed by a moisturizer.  The serum is clear, fragrance-free, slippery when applied, and absorbs quickly. All you need is a couple drops – a little goes a long way. After only one application, you will immediately feel that your skin is more plump and supple and looks smoother.
UPDATE 2020-08-23:  I have used this product consistently for the past two months so I can give this a long term review.  I've been using a couple of drops in the evening every day and it looks like I have well over half of the bottle left.  You can definitely notice smoother skin with less wrinkles with this daily regimen and at this rate I'll almost have enough serum for the whole year!
Revitalift Triple Power LZR day moisturizer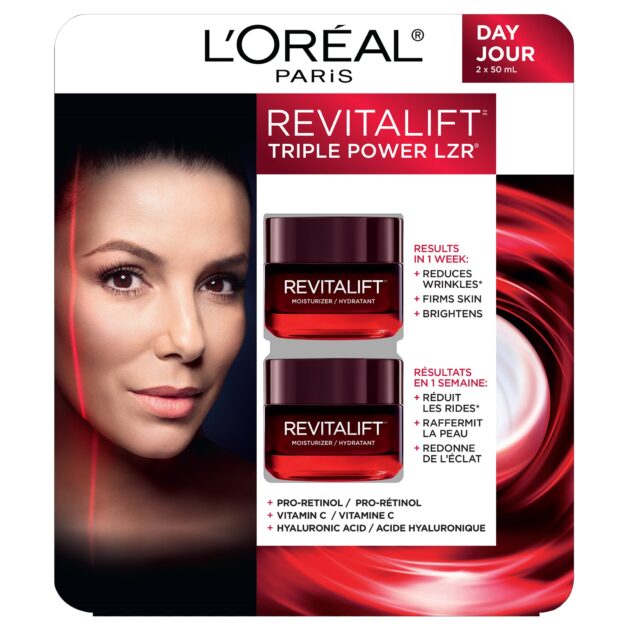 On top of having Hyaluronic Acid in it, the Revitalift Triple Power LZR day moisturizer is also formulated with Pro-Retinol and Vitamin C. The moisturizer comes in a solid glass jar with some nice weight to it. I've been applying the moisturizer every morning and evening following the serum.  The moisturizer cream goes on easily, feels light, and isn't greasy. The cream has a light fruity perfumed scent. I am often sensitive to heavily perfumed creams, but I've found this smell pleasant when it goes on.
UPDATE 2020-08-23:  The long-term combination of the Serum and the LZR day moisturizer is a winner.  Now that the weather is getting cold and crisp, this is the time of year really starts to make my face dry.  I like that the LZR day moisturizer does not feel greasy and absorbs easily into your skin keeping it soft all day long!
If you are looking to pick these products up, you won't find a better deal than at Costco!  Both the Serum and the Moisturizer are available for $46.99.  Don't forget to add these to your shopping cart on your next trip.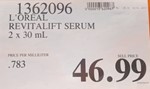 COSTCO $50 CASH CARD CONTEST INFORMATION
L'Oréal has provided (3) $50 Costco Cash Cards to give away with this promotion!  We will be holding a contest on Facebook and all you have to do is to comment on this post with to let me know your skin type: dry, normal/combination, oily, or sensitive.  You can go directly to the post here: https://www.facebook.com/costcowestfanblog/posts/1714499968710362
Gook Luck Everyone!
No purchase necessary. Contest ends November 29, 2020 at 11:59 pm (PT). Open to Residents of Canada, 18+. The prizes are:
Conditions apply. 1 entry/person. Correct answer to math skill-testing question required. Contest is not sponsored by Instagram® / Facebook®.  Winner will be announced via Facebook on Monday, November 30, 2020 at 9:00 AM (PT). Winners will be contacted no later than Monday, November 30, 2020 at 9:00 AM (PT) to claim prizes.
***This is a fan run, independent page with no affiliation or endorsement by Costco Wholesale***