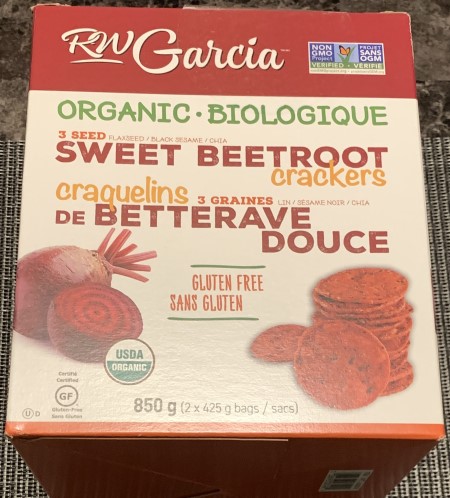 I hope everyone had a very Merry Christmas full of delicious food! Today I'm reviewing the RW Garcia Sweet Beetroot Crackers from Costco. I know New Year's Eve this year is going to be at home with my husband so I plan to use these crackers and make a big charcuterie board using Costco meat, crackers and cheese!
Cost
I paid $11.99 Canadian for the 850 gram box of RW Sweet Beetroot Crackers. The item number is 5006161.
Convenience
Because there are so mildly flavored they're really versatile, you can eat them with a variety of dips, turn them into nachos, use them for a charcuterie board or just enjoy them plain. The box comes with two bags of crackers in it and unfortunately the bags aren't resealable so you need an elastic or clothespin to keep them fresh and the best before date is about six months from the date I purchased the crackers.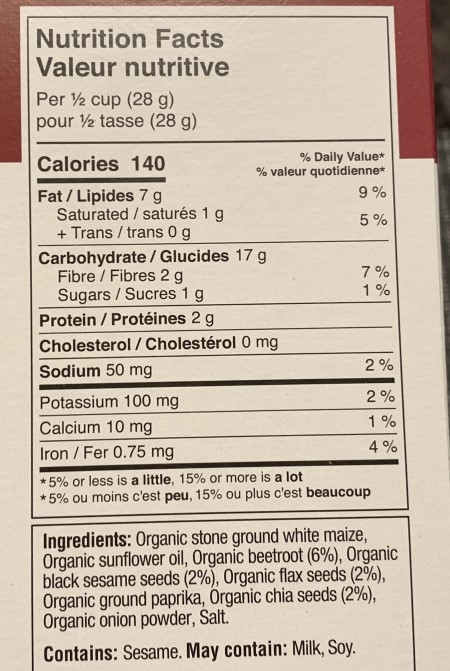 Nutrition
The nutrition information is for 1/2 a cup.  Usually, nutrition information is based on how many you eat (like 10 crackers). 1/2 cup is 140 calories, seven grams of fat, two grams of fibre, one gram of sugar, two grams of protein and 50 mg of sodium. The ingredients are actually pretty healthy and the flax and chia seeds add some healthy superfood fat! These are gluten free and organic which is awesome!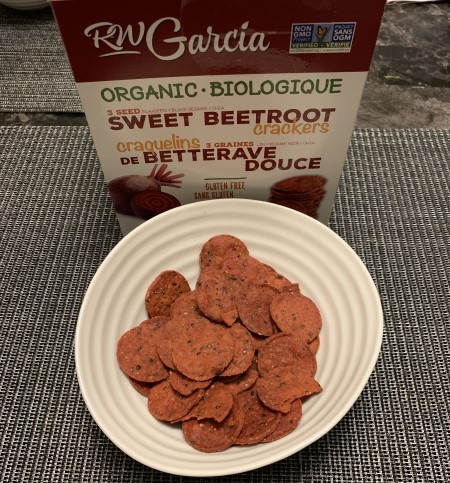 Taste
These tasted different than I expected! I initially thought they would be sweet kind of like how beets taste and the box also has "sweet" in the title, these aren't sweet at all! They're less salty than I expected as well, to be honest, there's not a ton of flavor but I still enjoyed them and found them hard to stop eating. Instead of a cracker these taste more like a tortilla chip and are nice and crunchy. The seeds give a tiny bit of extra flavor and texture to the crackers.
I actually like these enough to finish the whole box but I probably wouldn't buy them again. If you're looking for a delicious, gluten free cracker my favorite from Costco is the Simple Mills Almond Flour Crackers.
Cost: 6/10
Convenience: 9.5/10 (wish the bag resealed)
Nutrition: 9/10
Taste: 7.5/10
What's your go-to favorite cracker from Costco?