If you like my reviews for Costco food products the greatest thing you can do is follow me on Instagram or Facebook and also tell your friends about my blog Costcuisine where I review tons of Costco food products each week! You can also check out my Youtube Channel where I do video reviews!'
Today I'm reviewing the Nestle Carnation Hot Chocolate from Costco! It's getting really cold here and hot chocolate is always something I crave during cold snaps so I picked this up to review.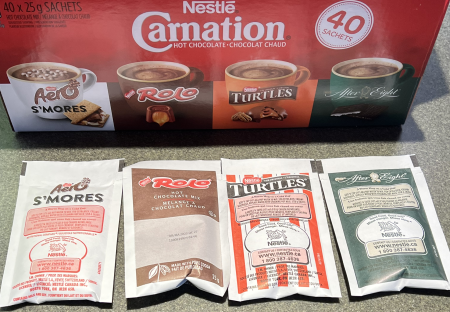 I paid $11.99 Canadian for the box of 40 sachets. There's two sachets of each flavour. Aero S'mores, Rolo, Turtles and After Eight. I have seen the same box of 40 sachets on sale for up to $3.00 off so if you can get it on sale that's a really good deal!

The best before date is about ten months from the date we purchased the hot chocolate. It's a fun idea to have four different varieties of hot chocolate in one box, all based on popular chocolates that everyone enjoys during the holiday season. To make the hot chocolate you simply mix your sachet with 3/4 cup of hot water. I personally believe that water has no place in hot chocolate so I always use milk and recommend others try the same! It makes it so much better.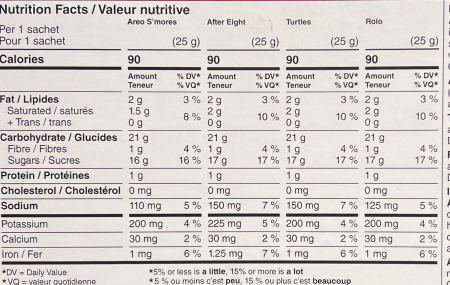 Hot chocolate definitely isn't healthy but one sachet is actually not that high in calories or fat, just decently high in sugar which is to be expected.

The ingredients list has the first ingredient listed is sugar and there's a few unpopular ingredients like hydrogenated vegetable oil and a few chemical-sounding ingredients as well. If you're wanting to make hot chocolate at home that's a bit less processed I recommend purchasing some high-quality chocolate shavings from your favorite local chocolate shop!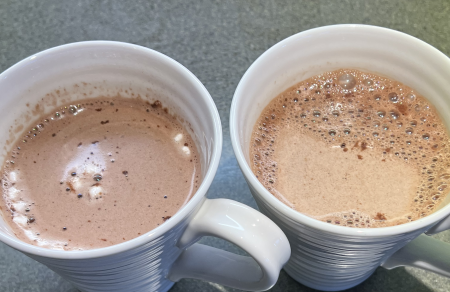 The Aero S'mores hot chocolate tastes like regular Carnation hot chocolate with a hint of marshmallow. Slight chalkiness. Not bad.
Rolo hot chocolate is very sweet from the caramel flavour, very artificial tasting, you definitely taste the caramel. Very sweet hot chocolate.
Turtles hot chocolate is pretty good! More of a richer caramel flavour, not as sweet as Rolo. I like this one the best.
After Eight hot chocolate smells so strongly of mint! Definitely tastes minty too, just like an After Eight. Also pretty good.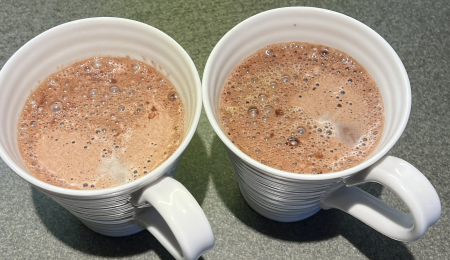 Both the Turtles and After Eight are the better ones. I think kids would absolutely love these and even adults will find them enjoyable.
Cost: 9/10
Convenience: 10/10
Nutrition: 0/10
Taste: 7/10