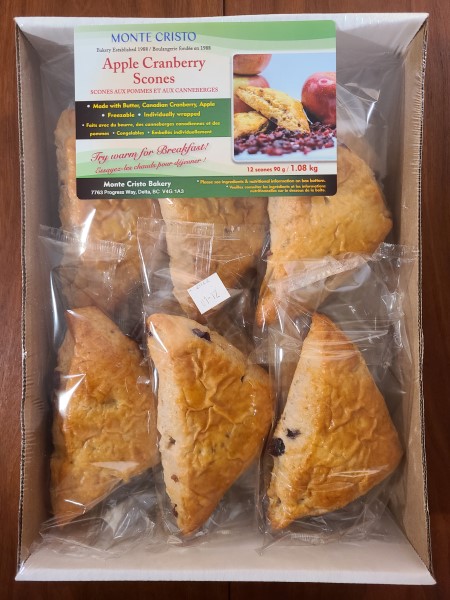 I also posted a Youtube video review for the Costco Kirkland Signature Chicken Tacos.
If you like my reviews for Costco food products the greatest thing you can do is follow me on Instagram or Facebook and also tell your friends about my blog Costcuisine where I review tons of Costco food products each week! You can also check out my Youtube Channel where I do video reviews!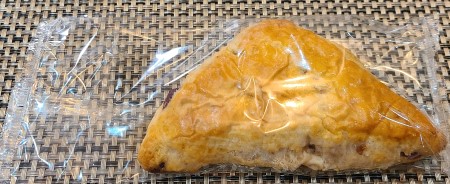 Today I'm reviewing the Monte Cristo Apple Cranberry Scones! I saw these at the bakery and wanted to try them as I've been really into apple flavored baked goods lately!
I paid $12.99 Canadian for the box of 12 individually wrapped scones which isn't bad! I buy scones from a local bakery and they cost $3.75 each for a scone roughly the same size.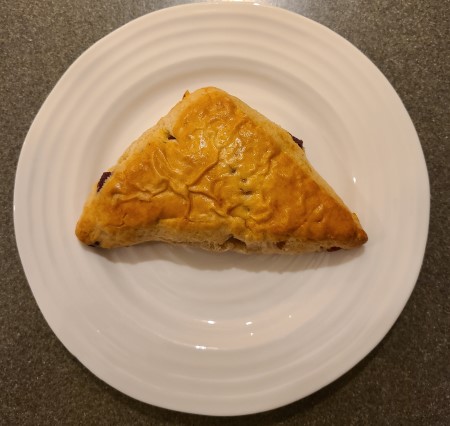 The best before date on the scones I picked up is eight day days from the date I purchased them. The scones are individually wrapped and can be easily frozen. Because they're individually wrapped they stay fresh. I usually freeze my scones right away because I don't notice a difference in taste from freezing them. I like the Monte Cristo scones from Costco because I can easily share a few with family and friends!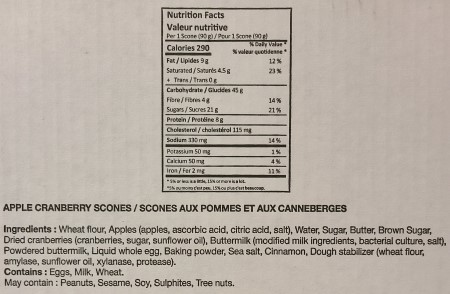 One scone is 290 calories, nine grams of fat, 45 grams of carbohydrates, four grams of fibre, 21 grams of sugar, eight grams of protein and 330 mg of sodium. I really appreciate that the ingredients list contains ingredients I would use to make scones at home and not a lot of extra additives or preservatives. The scones contain wheat, eggs and milk. They may contain peanuts, sesame, soy, sulphites and tree nuts.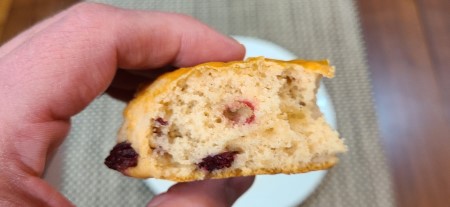 Along with the other Monte Cristo products I've tried, these scones are yummy! The scone has a lovely apple cinnamon flavor. The flavor of the apple is stronger than the cinnamon and really tasty. My scones looked a bit off as the outside of the scone dough was a bit wrinkled and shiny on top but they tasted fine. There's only a few cranberries in each scone and you don't really notice a lot of cranberry flavor. I would say these are more like apple cinnamon scone rather than apple cranberry. They're very enjoyable with a bit of butter and a coffee or tea!
Cost: 8/10
Convenience: 10/10
Nutrition: 1/10 Point or having less additives and chemicals than other baked goods in the bakery section.
Taste: 8/10